Petrol Prices Melbourne has been developed to help people pay less for petrol. Petrol Prices Melbourne has three sections: alert, maps and submit.


| | |
| --- | --- |
| Alert | See a massive price hike. Spread the word. |
| Maps | Petrol Prices Melbourne maps show nearest, cheapest, or all petrol stations. |
| Submit | Help each other by submitting petrol prices using Petrol Prices Melbourne. |


134.0
16/07/2018
Ave Terminal Gate Price

NEW - NEWS page added to menu
The NEWS blog enables me to share helpful information to help save money on petrol for Petrol Prices Melbourne visitors.

NEW - DIY tips to find cheapest petrol prices
To help save money on petrol I've now added a DIY page with tips I've learnt to save money on petrol.



Petrol Prices Melbourne Background

Melbourne petrol prices follow a fairly consistent pattern as shown in the following graph.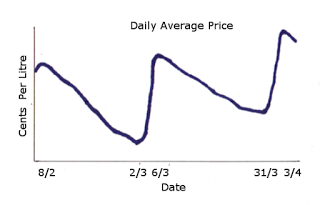 The price of petrol drops over a period of three to four weeks. Sometimes a shorter period and sometimes a longer period. You can see there's a minimum price point reached and then quickly over a period of 2-4 days the price jumps massively by 20-30 cents. Miss the price hike and you can easily spend $10-$15 more for a tank of petrol.

Petrol prices are also not consistent across Melbourne, or even sometimes the nearby suburbs. Before filling up with petrol, if you check the Petrol Prices Melbourne maps you may find a petrol station along the way which could be up to 10 cents per litre less. Even a saving of 4 cents if you fill up each week could put $100 tax free back in your pocket.

With many families having two or more cars, families can save a considerable amount of money purchasing petrol. Savings that could easily add up to $200-$500 per year per car with a relatively small amount of effort.

Petrol Prices Melbourne has been built as a resource for Melburnians. A tool for us to help each other. Please help by submitting petrol prices when you fill up, you're travelling around as a passenger in a car or bus. When you help others and others help you, everyone wins.

Ave, Max, Min, Trend

For quick reference Petrol Prices Melbourne shows the average, maximum and minimum prices submitted today for unleaded petrol at the top of this page. The trend value is handy as it lets you know which direction and by how much the average price of unleaded petrol has changed from yesterday. A negative trend amount means prices have gone down. A larger positive trend amount is an indicator of a price hike.

Petrol Prices Melbourne - Alert

Petrol Prices Melbourne started as a simple alert page. The largest single savings can be made by knowing when the petrol price hikes. Get in before the petrol price goes up and you can save $10-$15. Over a year this could easily add up to $100-$200. Let your family and friends know and they'll save too.

The Alert is now a separate section. The Alert page helps you send messages via email, Facebook and Twitter.

Petrol Prices Melbourne - Maps

Petrol Prices Melbourne provides two maps to help people find cheaper petrol. One map shows up to 10 of the nearest petrol stations along with the details for the petrol stations. A link is provided so you can use your navigation app on your mobile phone to get to the petrol station.

A handy comparison figure is also provided so you can easily compare the price of a 50 L tank, along with the return cost should you decide to make a special trip to fill up. The nearest petrol station is often not the cheapest, but driving too far out of your way, isn't a good idea either.

The second map shows all petrol stations that have had a price submitted. Using the map showing all petrol stations is handy if you want to plan your day's commute and pick up petrol on the way.

A filter enables to you to select petrol stations based on the type of petrol you use.

Petrol Prices Melbourne - Submit

Petrol Prices Melbourne provides the community with the ability to submit petrol prices. The usefulness of Petrol Prices Melbourne is really up to the community. The more people chipping in, the more useful Petrol Prices Melbourne becomes.

Two maps are provided. A map showing the nearest petrol stations and a map showing all petrol stations.

The nearest petrol stations map is handy when you're at or near a petrol station. Only petrol stations near you will be shown. Click on the marker on the map, or the link and you can quickly submit the price.

The map showing all petrol stations is handy if you like to write down prices and submit the prices at the one time at work, home, or when you get time. It's best not to wait too long however as prices can and do change.

Any time you put in to providing petrol prices is appreciated and with everyone chipping in just a little, everyone wins. Thank you in advance for chipping in.

TIPS
Don't buy close to home The most expensive petrol station and the one we used the most is the local Shell Service station. The only saving grace is it accepts a discount voucher, but even then, with the discount voucher it can be more expensive than other services stations we may drive past. Our habit of filling up close to home we now realise has cost us a considerable amount of money over the years.


DIY - Find cheapest petrol prices Whilst building and running this page I found a number of sites and approaches that help find the cheapest petrol prices. You can find the list of sites and approaches on the DIY page available via the menu. I currently only cover around my own area, so making these tips available to others hopefully may help them save money on petrol in their area.


Average Terminal Gate Price The Average Terminal Gate Price is the average of the terminal gate prices taken on the morning of the date shown. Credit needs to go to the Australian Institute of Petroleum for providing this information on their site. A link is provided on the DIY page to the AIP site.

The Average Terminal Gate Price is important as generally prices don't go up until the prices have come down to around this price during the discounting cycle. That is, until the petrol prices come down to or near the Average Terminal Gate Price we don't have to be concerned with prices peaking, as the petrol prices are still coming down. During the discounting phase we only need to look for the cheapest petrol prices.
Articles
Petrol Prices Melbourne web app now available. view

Petrol related calculators
Petrol Cost Calculator
Litres per 100 km
Disclaimer
Petrol Prices Melbourne web app comes with no warranty expressed or implied. The Petrol Prices Melbourne web app is only for informational purposes and is not guaranteed to be error free. The information on this page is not intended to be advice.

Note: Using a mobile phone whilst driving is illegal.